Presents
Yankee Ridge Gale Force JH, SH
"Eva"
Sire: FC AFC Small Craft Advisory
Dam: GRHRCH Hardy Lake Wake MH
Whelped: 3/28/09
Hips OFA - Excellent - LR-192332E24F-VPI

EIC - Normal - LR-EIC1778/40F-VPI
CNM negative by parentage
CERF# LR-362029
Yellow Factored
Weight 75 lbs

Summer 2010
First two junior passes!
Opening weekend 2010
Last hunt 2011/2012 Season
Eva and friends after a good hunt in 2012!
Eva is a muscular 75 lb hunting machine. She is high drive in the field, but quiet as a mouse in the kennel or house. When she goes outside her nose goes to the ground and she never stops hunting. She is one of the best upland dogs I have every hunted! Eva is a natural pointer, but I haven't pursued any pointing titles with her. She loves the water and is a very strong swimmer. Eva did a great job in water when training for her Senior Hunter title.

Eva comes from a strong female line. She has at least four litter mates with titles including a QAA, MH, and a SHR! Also, Eva's mother and litter mate participated in the 2012 HRC International Grand Hunt in Oklahoma!

Eva's sire, FC AFC Small Craft Advisory, is #7 on the Current Top Producing Labrador Retriever Sires in the United Kennel Club (UKC) with 23 titled offspring.


Achievements:
September 28, 2011 - Eva gets fourth senior pass to get her AKC Senior Hunter title.

August 28, 2010 - Fourth pass to achieve the AKC Junior Hunter title in Lincoln, NE.

Pedigree

SIRE

FC AFC Small Craft Advisory

"Rough"


FC AFC Teddy's Ebonstar James


2xNAFC CNAFC FC CFC Ebonstar Lean Mac

HRCH Southhills U Gotta B Kiddin MH

FC AFC Dutchman Gold Midnite Eve

FC AFC Cornerstone Wizard of OZ

Us Send It Page


DAM

GRHRCH Hardy Lake Wake MH


UH HRCH Sunrise's Must Be Fate MH

FC AFC Tule River Kodiak

Feather Ranches Tawny Pursuit

HRCH Burns Miss Daisy Mae SH

HR Stonelane Cletus JH

Stonelane Cali

Sire: FC AFC Small Craft Advisory "Rough"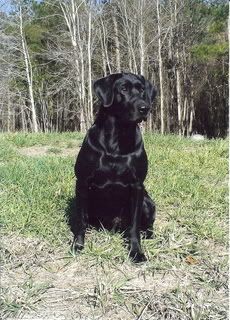 FC AFC Small Craft Advisory (FC AFC Teddy's Ebonstar James x FC AFC Dutchman Gold Midnite Eve MH).

Rough qualified for the National Amateur Retriever Championship in 2005, 2006, 2007, 2008, 2009, and 2010 and the National Open Retriever Championship in 2007. At eight years old, Rough has now has a total of 105 All-Age points (87 Amateur and 26.5 Open) with a total of 2 Open and 11 Amateur wins following his wins at Tidewater Retriever Club on May 2 and Tar Heel on 4/19/2010. Rough is amateur trained and handled and at home is a spoiled and very friendly house dog who loves to climb into your lap for a rub. Rough has OFA Excellent Hips, normal Elbows and Eyes, and is CNM and EIC clear. He weighs in at about 80 lbs. While his pups are still young, several have derby and/or qualifying level field trial placements and a growing number are on the derby list.



Dam: GRHRCH Hardy Lake Wake MH



Below is a picture of Eva's litter mate
Rough Wake on the Lake, QAA